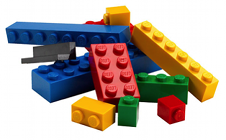 LEGO Like Coding
Kids don't need to know how to write even English! A Lego like interface with ready made drag and drop code components will be available to them.
Puzzle Driven Learning
To stimulate kids thinking about the theoretical part of programing, simple puzzles will be there to let Them think about the problem and finding the solution.
Cartoon Guiding Characters
Using guiding cartoon characters that appeal to kids, Which will travel with them through the learning journey and guide them.
You can try our basic interface today!
Please note that this is a basic prototype and does not contain any code execution elements Try it!